Jade will astound the audience with her charm and wizardry on stage. Depending on the stage set-up and budget, Jade can enchant an audience by herself or with a cast of 20.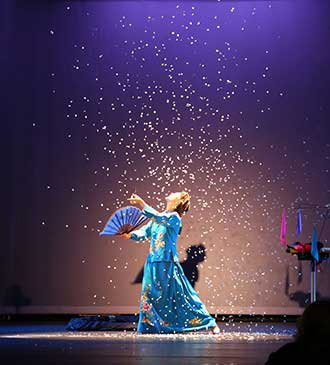 Sometimes referred to as "strolling magic" where Jade will add excitement and intrigue to any event by mingling with guests and perform mind-boggling magic up close! It's a perfect icebreaker for a group of people that may not know each other, and a blast for those that are old friends!
Testimonials
"Jade is breaking the stereotypes that magic is a field that can only be dominated by men."
- Denise Sloan, Entertainment Editor
– Lake Tahoe Tribune
"Such artistry is rare in the showy art of magic."
- Moya Elmer
– Frisko Magazine
"Jade's award-winning act… scores with the audience!"
- Jon Racherbaumer
– Magic Magazine
"Jade's magic is presented with a beauty and grace rarely seen today."
- Mel Shields
– Showtime Entertainment Guide
"The audience was mesmerized by you!"
- John Ludin, Executive Director
– The Ellen Theatre
"Jade creates an experience to be remembered for a long time to come."
- Daniel Barash
– Contemporary Jewish Museum
"Baffling, elegant, and exotic…Jade's performance was fantastic!"
- Stan Sieler, Executive Vice President
– Allegro Consultants, Inc.
Jade took the male-dominated world of magic by storm in 1990, when she became the first woman to win the International Brotherhood of Magicians' coveted Gold Medal of Magic, a prize awarded only a handful of times in the competition's long history.
Jade has performed and received multiple awards for her performances here and abroad, including the Mandrake Award from France as well as the "Female Magician of the Year" award from the International Magicians Society in Las Vegas.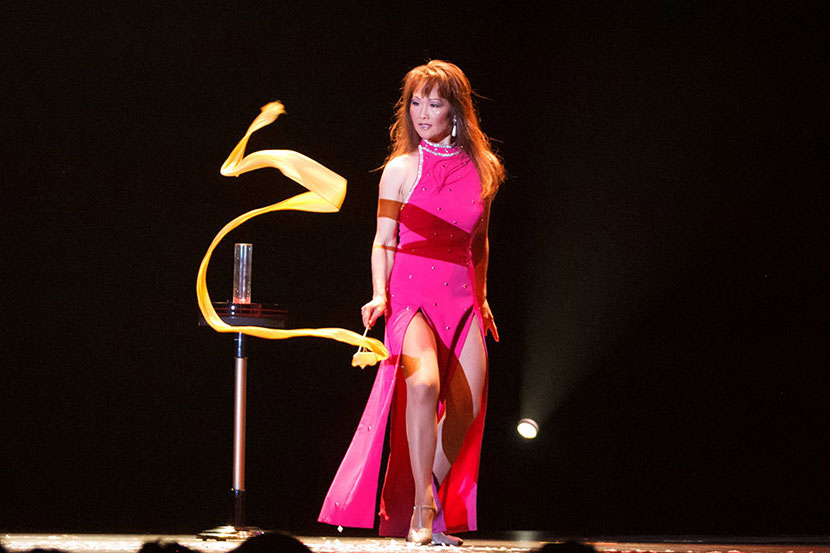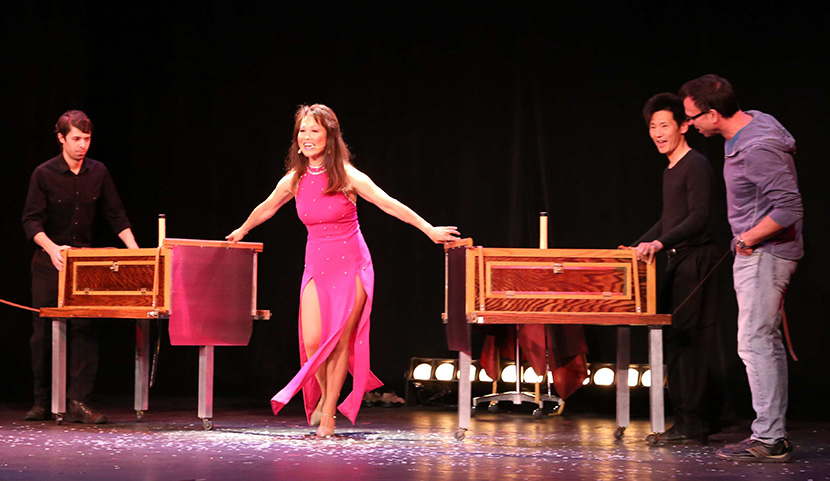 Jade has performed on the stages of variety theaters around the world, on luxury cruise lines, and in casino revue shows in Atlantic City, Lake Tahoe, Las Vegas, Malaysia, and Australia. She has also delighted audiences in numerous appearances on international and American television, including CBS' Late Late Show and CW Network's Penn & Teller: Fool Us!
Jade's command performance for the Royal Family of Monaco at the Princess Grace Theater was one of her many career highlights.
Among her impressive list of corporate clients includes Sony, Facebook, Apple Computer, and Google. Jade offers customization, expertise, and sophistication, so your next corporate event will be unforgettable!
APPLE
GOOGLE
FACEBOOK
SUN MICROSYSTEMS
SONY
GENERAL MOTORS
SEAGRAM'S
WHIRLPOOL
CISCO SYSTEMS
CHEVRON
HEWLETT PACKARD
GENERAL ELECTRIC