Jade will astound the audience with her charm and wizardry on stage. Depending on the stage set-up and budget, Jade can enchant an audience by herself or with a cast of 20.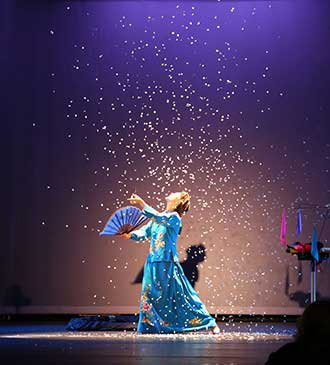 Sometimes referred to as "strolling magic" where Jade will add excitement and intrigue to any event by mingling with guests and perform mind-boggling magic up close! It's a perfect icebreaker for a group of people that may not know each other, and a blast for those that are old friends!
Testimonials
"Jade is breaking the stereotypes that magic is a field that can only be dominated by men."
- Denise Sloan, Entertainment Editor
– Lake Tahoe Tribune
"Such artistry is rare in the showy art of magic."
- Moya Elmer
– Frisko Magazine
"Jade's award-winning act… scores with the audience!"
- Jon Racherbaumer
– Magic Magazine
"Jade's magic is presented with a beauty and grace rarely seen today."
- Mel Shields
– Showtime Entertainment Guide
"The audience was mesmerized by you!"
- John Ludin, Executive Director
– The Ellen Theatre
"Jade creates an experience to be remembered for a long time to come."
- Daniel Barash
– Contemporary Jewish Museum
"Baffling, elegant, and exotic…Jade's performance was fantastic!"
- Stan Sieler, Executive Vice President
– Allegro Consultants, Inc.